Philippians: How to Have Joy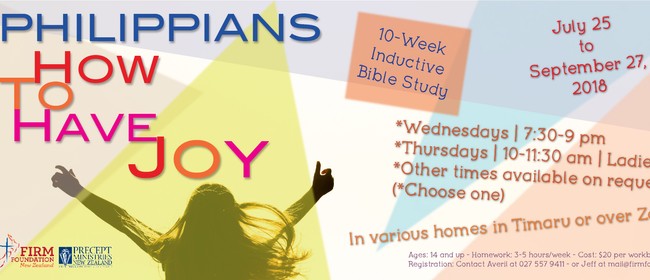 Firm Foundation, Timaru, South Canterbury
This 10-week inductive Bible study of Paul's letter to the Philippian church will focus on spiritual truths intended to bring believers joy and peace in their daily walk with Christ. 

Philippians is a beautiful and profitable book, containing many principles of life that will transform your attitude toward people and circumstances as you apply God's word by the power of the Holy Spirit. 

We hope you will study Philippians with us!

Led by: Jeff and Averil Coleman of Firm Foundation New Zealand.

Place: In various homes in Timaru or over Zoom (www.zoom.us) 

Homework: 3-5 hours/week
Cost: $20 per workbook

Registration: Contact Jeff at 027 557 9314 or mail@firmfoundation.org.nz 

Leader Bio: Jeff and Averil live in Timaru and run Firm Foundation New Zealand, a Christian ministry dedicated to conversational evangelism, inductive Bible study, expository Bible teaching, and biblical worldview training. Jeff has a B.A. in English from the University of Kansas, a J.D. from the University of Denver Sturm College of Law, and a Th.M. from Dallas Theological Seminary. 

He is a licensed attorney and a major in the United States Air Force Reserves. Averil has a B.A. in Education from the University of Canterbury and served five years as a missionary in Thailand. Jeff and Averil homeschool their four young children.
This information is provided by
Eventfinda